2016 CONFERENCE RECAP
Posted on Sep 16th, 2016
Photo left: Members of the USJLP Class of 2016 during the Closing Dinner on Friday, July 22.
This past July marked the seventeenth successful year of the US-Japan Leadership Program, with the Program's vibrant, diverse and dedicated network now totaling 392 leaders in the U.S. and Japan. Over July 16-23, a record number of Delegates and Scott M. Johnson Fellows, 90 members in total, convened in Seattle for the 2016 Annual Conference and inter-class reunion at the close of the week. From the incredible level of talent and achievement in the group, the ideas and insights formed during discussions, the remarkable dedication shown by the returning alumni, and the intensity of the inter-class bonding that took place, this year's conference was a beaming representation of the Program's ongoing mission to foster life-long friendships and meaningful dialogues between the future leaders of our two countries.
The 2016 conference brought together 44 Delegates representing a wide-array of talent and backgrounds, including: state and national government, space exploration, religion, academia, military and defense, journalism, television, LGBT rights, law, non-profit, visual art, design thinking, music, classical ballet, social entrepreneurship, technology, health care, and the private sector. The conference week wove together this diverse class by providing a framework for mutual sharing, respect and friendship through daily discussions, bonding activities, and off-site excursions unique to the Seattle area.

Above: A thought-provoking discussion on social change issues in the U.S. and Japan on Monday, July 18 was led by expert panelists in the areas of race and social justice, environmental poverty, gender equality, and LGBT rights. From left to right: Dawn Yamane Hewett (16,17), U.S. Department of Commerce; Nikole Hannah-Jones (16,17), The New York Times Magazine; Tracey Ross (16,17), Center for American Progress; Fumino Sugiyama (16,17), Tokyo Rainbow Pride; Izumi Tanaka (16,17), Nippon Housou Kyoukai (NHK).
Discussions were tailored to take advantage of the expertise and diverse perspectives represented among the Japanese and American Delegates. Topics covered included: the prospective impact of the 2016 U.S. election on the US-Japan relationship, policy changes to address Japan's shifting demographics, current and future social change issues in both countries, challenges and opportunities related to the rise of China, the role of education in nurturing next-gen leadership, technology and the impact of A.I., innovations in business thinking and work culture, and the influence of creativity in our lives. The themes and outcomes raised in these group discussions were expanded upon in multiple, intensive small group sessions.

Above: A scene from one of several breakout sessions held over the course of the week. These intimate small group sessions provided a forum for all Delegate voices to be heard while exploring topics and questions raised in
plenary sessions in greater depth.
At the start of their week together, Delegates took part in collaborative cross-cultural learning activities such as puzzle solving (above left) and personality type-based communication strategies (above right).
During their stay in Seattle, Delegates were provided with daily opportunities to bond outside of core discussions through an array of activities showcasing the city's diversity. Experiences included a "Pikes Place Market Iron Chef" team-building cooking challenge, a private Puget Sound cruise to Blake Island, on-site tours and talks at Joint Base Lewis McChord, a visit to Woodinville wine country, and a Seattle Mariners game. The week started off with a personal welcome from Mayor Ed Murray set against stunning views of the Seattle skyline, and ended with a festive inter-class reunion with Scott M. Johnson Fellows. Delegates and Fellows spent the final two days engaging in meaningful exchanges and creative activities, while simultaneously strengthening and forging lifelong bonds across the network. The record-breaking number of Fellows who traveled far and wide to join the Delegates in Seattle is a testament to the extent of the dynamic inter-generational and inter-disciplinary connections that the members of this Program have fostered and sustained across the Pacific over the past seventeen years.
Above:Delegates were honored with a personal welcome by Seattle Mayor Edward Murray at the conference kick-off dinner on Saturday, July 16, and enjoyed the opportunity to personally engage with the Mayor prior to dinner (left) as well as during a lively dinner Q&A session (right).
Above: On Sunday, July 17 Delegates explored their teambuilding, leadership, and culinary skills during an "Iron Chef" cooking competition, creating three-course meals for 50 people. Teams met their chefs at Pikes Place Market (left) to shop and strategize their menus, and then headed to Blue Ribbon Cooking on Lake Union to don their aprons (right) and battle it out for the most creative and delicious kitchen creations.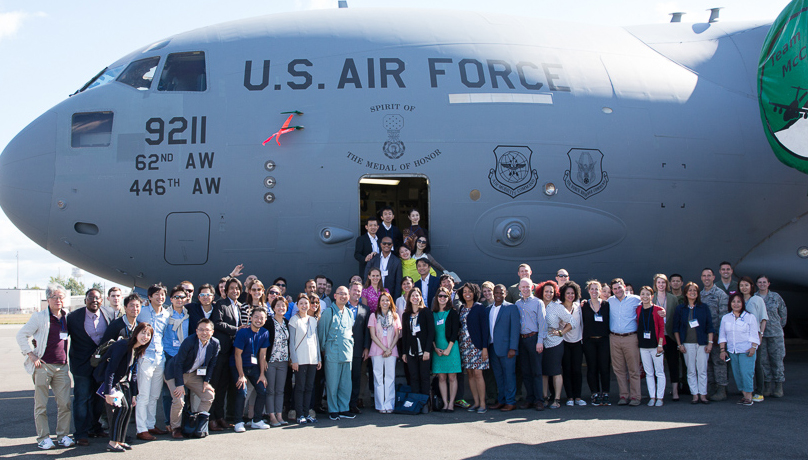 Above: The Class of 2016 stand with their U.S. Air Force hosts in front of a C-17 after a full day of talks and tours on-site at Joint-Base Lewis McChord on Tuesday, July 19. Delegates were treated to this special opportunity by Col. Leonard Kosinski (USJLP 05,08), Commander of the 62nd Airlift Wing.
Special bonding opportunities were provided nightly, and included a Seattle Mariners vs. Chicago White Sox game on Tuesday, July 19 (above left), and a wonderful private reception hosted by Scott Oki (above right, standing third from left) at his Lake Washington residence on Wednesday, July 20.
On Thursday, July 21 Delegates were joined by a record number of Scott M. Johnson Fellows who made a special effort to reunite in Seattle for Fellows Weekend. Inter-class bonding was kicked off on Thursday with a series opportunities for creative and cross-cultural collaboration, including a design thinking exercise for understanding and improving bi-national workplace barriers (left), and a team competition to pitch an innovative business idea that blends together unique aspects of both countries' cultures (right).
Above left: During the 2016 Fellows Weekend Opening Reception Thursday evening Delegates and Fellows enjoyed private coffee tastings and tours at the world's only
Starbucks Reserve Roastery and Tasting Room.
Above right: Friday, July 22 was designed for maximum interclass bonding, with the group sailing to Blake Island for a fun afternoon of fierce and friendly competition in mixed teams of Delegates and Fellows.

Above: On the way to and from Blake Island, the group took in the breathtaking scenes of the Puget Sound and enjoyed the additional time to bond while onboard their private cruise boat.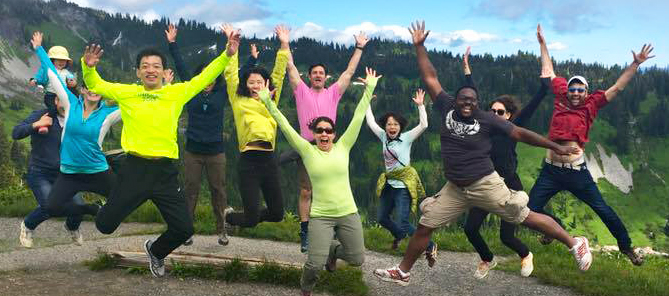 Above: The fun continued after the conference with a day hike in Mt. Rainier, organized by Lauren Edgar (15,16).
Return to Homepage