Fifteenth Conference: Seattle (July 19-26, 2014)
Posted on Jul 19, 2018 - Nov 30, -0001
This past July marked the fifteenth anniversary of the US-Japan Leadership Program, and the first milestone year celebrated in Seattle, which has been the U.S. host city for the Program since its inception in 2000. Over these past fifteen years USJLP has blossomed into a diverse and dedicated network of 347 leaders in the U.S. and Japan, each subsequent year bringing in even more incredible talent than the last. The 2014 conference in Seattle proved to exceed every expectation in every way, from the talent within the group, the ideas that rose from discussions, the intensity of the bonding that took place, and the show of dedication from alumni who returned for the final two days of the conference.
In total, 42 Delegates hailing from: government, media, academia, finance, the military, journalism, energy, non-profit, music, architecture, science, technology, energy, health care and the private sector convened in Seattle from July 19-26, 2014. The group engaged in daily plenary sessions on topics of mutual interest. Delegates gave personal and professional presentations during the sessions and experts from each nation were invited to give remarks that added to the discussions. Topics raised in group plenaries were expanded upon in multiple, intensive small group sessions.
Discussions honed in on contrasting views from the U.S. and Japan relating to: the current state of the US-Japan relationship, status of women, role and impact of media, future issues facing the healthcare and energy markets, economic and financial hurdles, and the innovative and entrepreneurial success and challenges in our two countries.

Above: Delegates deep in discussion, from left to right: Makiko Oku (14,15), Takayuki Hayakawa (13,14), BT Slingsby (13,14), Yo Nagami (13,14) and Brian Willis (14,15).
During their stay in Seattle, the group was given daily opportunities to bond outside of discussions by participating in an array of activities showcasing the city's diversity. Experiences included a "Pikes Place Market Iron Chef" team-building cooking challenge, a private cruise on Lake Union in an historic steamboat, on-site tours and talks at Joint Base Lewis McChord, a visit to Woodinville wine country, a Seattle Mariners game, kayaking, and more. A record number of 40 Fellows returned to join the Delegates for a festive inter-class reunion the final two days of the conference, engaging in meaningful exchanges while enjoying world-class company and stunning views of the Seattle skyline.
| | |
| --- | --- |
| | |
Above: On Sunday, July 20 Delegates explored their teambuilding, leadership, and culinary skills during an "Iron Chef" cooking competition, creating three-course meals for 50 people. Teams met their chefs at Pikes Place Market (left) to shop and strategize their menus, and then headed to Blue Ribbon Cooking on Lake Union to don their aprons (right) and battle it out for the most creative and delicious kitchen creations.
Above: On Tuesday, July 22, Air Force Captain Brian Willis (USJLP 14,15) arranged a special opportunity for Delegates to spend the day at Joint Base Lewis McChord engaging in talks and tours with base officials and personnel. The day culminated with an onboard tour of a C-17 air carrier.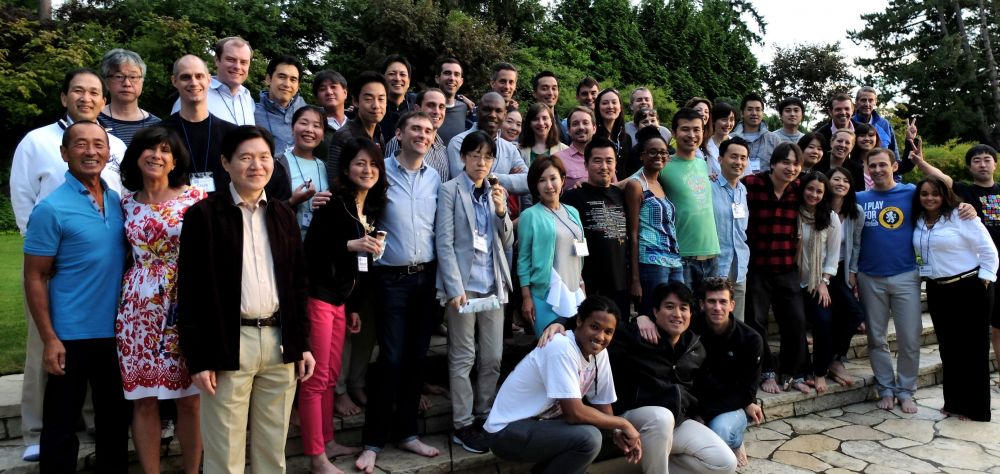 Above: Delegates were treated to a private reception at the Lake Washington home of Scott and Laurie Oki (standing front row, far left) on Wednesday, July 23. With special guests, gorgeous weather and incredible hospitality, the evening was certainly a highlight of the week.
Over Thursday, July 24 and Friday, July 25 Delegates were joined by Fellows (alumni), representing all 15 years of the Program. Pictured above are some of the returning Fellows representing the earliest, and most recent, classes of the Program. (Photo left) Fellows from the classes of 2011-2013 at the farewell reception on July 25 at the Fairmont Olympic Hotel. (Photo right) On July 24, Fellow dedicated to USJLP since joining the Program between 2000-2003 reunited on board the historic Virginia V steamboat for a cruise around Lake Union.
Back to Conferences