Fourteenth Conference: Kyoto/Tokyo (July 21-28, 2013)
Posted on Jul 21, 2018 - Nov 30, -0001
The Program's fourteenth annual conference was held in Japan from July 21-28, 2013. The group spent the first four days in Kyoto, followed by a daytrip to Hiroshima, and the last two days of the conference culminated in Tokyo. Delegates engaged in plenary sessions on various issues of mutual interest, serving as panelists, moderators and rapporteurs on a variety of topics including: US-Japan Alliance, Leadership, Generations, 9/11 & 3/11 Recovery, and Economic Eco-Systems. Government, education and private sector experts were also invited to give remarks, sparking lively discussions that carried on throughout the week.
Topics raised in group discussions were expanded upon in intensive small group sessions. Small group sessions were also dedicated to issues such as: Leadership, Youth Culture's Impact on Society, Resources and Sustainability, Fixing Our Fiscal Crises, and Cultural Hurdles to Overcome.
During their stay in Kyoto, the group participated in an array of activities showcasing the city's rich historical heritage. Experiences included visits to Fushimi Inari Shrine, Kiyomizu Temple, Ryoan-ji Temple, Kinkaku-ji ("Golden Pavilion") and the Kibune area. Mid-week, the group took a daytrip to Hiroshima where they had an optional opportunity to hear a talk by an atomic bomb survivor and visit the Hiroshima Peace Memorial Museum, as well as take in the natural beauty of Miyajima island, a UNESCO world heritage site.
In Tokyo, Fellows and family members joined the Delegates for the final two days of the conference where together, they explored the diversity of Tokyo thorough small group activities, while getting to know each other and strengthening friendships.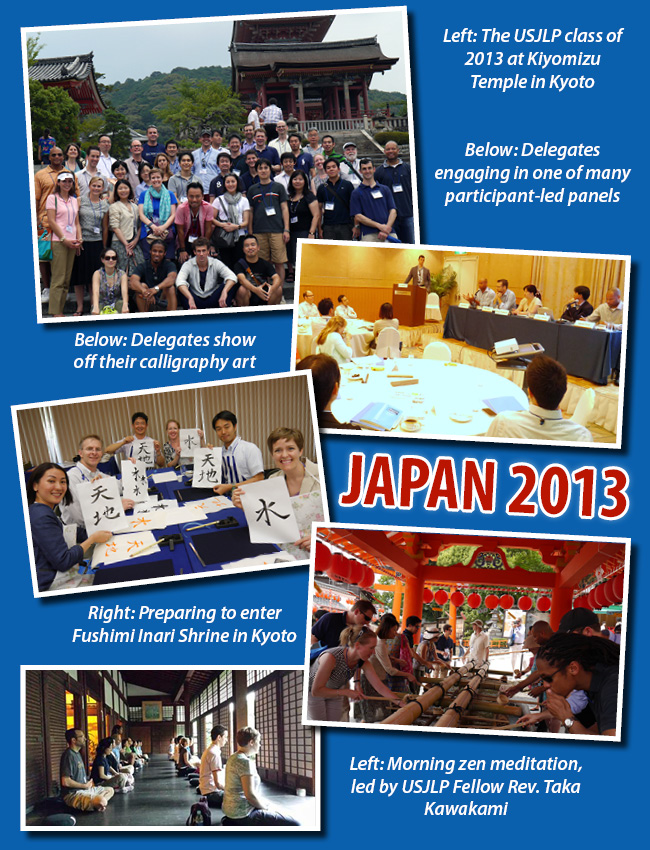 Back to Conferences