Eighteenth Conference: Kyoto/Tokyo (July 23-30, 2017)
Posted on Jul 30, 2017
(Photo left) On Friday, July 28, Delegate experts in the fields of science, technology and futurism presented a series of fascinating talks on the impact of tech and AI on the future and life as we know it. Pictured, from left: Michinao Hashimoto (17,18), Chris Carr (16,17), Josh Marcuse (16,17), Amy Webb (17,18), Hardy Kagimoto (17,18), and Mayu Yamaguchi (17,18).
This past July marked the eighteenth successful year of the US-Japan Leadership Program, with the Program's vibrant, diverse and dedicated network now totaling 410 leaders in the U.S. and Japan. Over July 23-30, a record number of Delegates and Scott M. Johnson Fellows, 115 members in total, convened in Japan for the 2017 Annual Conference and inter-class reunion at the close of the week. From the incredible level of talent and achievement in the group, the ideas and insights formed during discussions, the remarkable dedication shown by the returning alumni, and the intensity of the inter-class bonding that took place, this year's conference was a beaming representation of the Program's ongoing mission to foster life-long friendships and meaningful dialogues between the top thought-leaders of our two countries.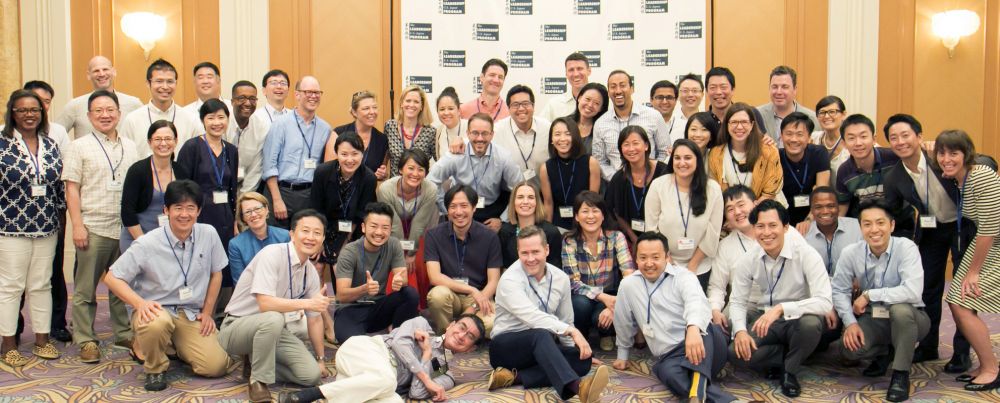 (Above) Scott M. Johnson Fellows and Delegates pose together on Friday, July 28 after a full-day of thought-provoking discussions and frank exchange of ideas and opinions.
The 2017 conference brought together 42 Delegates representing a wide-array of talent and backgrounds, including: government, space exploration, academia and K-12 education, military and defense, journalism, finance, biotech, LGBT rights, law, visual art, design thinking, engineering, architecture, music, social impact, health care, and the private sector. The conference week in Kyoto, Hiroshima and Tokyo wove this diverse class together by providing a framework for mutual sharing, respect and friendship through daily discussions, bonding activities, and off-site excursions unique to Japan. Click here to learn more about the 2017 Delegate class.
In the plenary sessions, Delegate experts led discussions on pertinent issues to both sides, including: the US-Japan alliance, politics, diplomacy, Japan's growth strategies, the threat from North Korea, the rise of social and economic inequality, creating meaning in our lives and careers, and the future outcomes and possiblities of our tech-driven world. The diverse array of insights and perspectives and raised during the plenary sessions were further expanded upon in intensive small group discussions held several times over the course of the week.
Delegates engage in a lively debate over whether Trump's policies will lead to "America first" or "America isolated" (above left) and actively take part in a thought-provoking talk on how they can maximize their careers and the success of their teams (above right).
In addition to daily discourse, Delegates furthered their appreciation and understanding of Japan's historical and cultural heritage by visiting sites in Kyoto such as Shimogamo Shrine, the mountainous region of Kibune, and Ryoan-ji and Myoshin-ji temples, as well as participating in a local festival dressed in summer yukatas. As part of the initial icebreaker the first day, Delegates engaged in a traditional Japanese drumming workshop, which served to energize the group for the action-packed week ahead.
| | |
| --- | --- |
| | |
On Monday, July 24, Delegates were challenged to listen carefully to one another and come together as a group during a traditional Japanese drumming workshop (above left). After 90 minutes of sweat-inducing practice, the entire room of Delegates brought to life the musical sounds of traditional Japanese summer festivals in an energetic culmination of rhythm, dancing and teamwork. Following the workshop, Delegates donned colorful summer kimonos for dinner and a local festival at Shimogamo Shrine (above right).
Special experiences in Kyoto included a private, after-hours tour of Japan's most famous zen rock garden and temple, Ryoan-ji (photo left), a rare opportunity made possible by Rev. Daiko Matsuyama (15,16), and the chance to learn zen meditation on the temple grounds of Myoshin-ji (above left), hosted and led by Rev. Taka Kawakami (08,09).
This year the group was incredibly honored to meet the two hibakusha (atomic bomb survivors) recognized by President Obama in his remarks made on-site in Hirsohima on May 27, 2016: Ms. Koko Kondo ("the woman who forgave a pilot who flew the plane that dropped the atomic bomb, because she recognized that what she really hated was war itself") and Mr. Shigeaki Mori ("the man who sought out families of Americans killed here, because he believed their loss was equal to his own.") Ms. Kondo's moving talk in Kyoto helped to prepare the group for their trip to Hiroshima on Thursday, July 27 where they had the priviledge of hearing Mr. Mori discuss his life-long efforts to uncover the identity and honor the memories the twelve U.S. POWs who lost their lives in Hiroshima as a result of the atomic bomb.
| | |
| --- | --- |
| | |
(Above left) Survivor and peace activist Ms. Koko Kondo (on right) posed after her talk on Wednesday, July 26 with Tomoko Kubota (17,18; on left), a journalist and Hiroshima native who served as moderator for both survivor talks presented to the group this year.
(Above right) Following his talk in Hiroshima on Thursday, July 27, the group was honored to have the chance to be personally accompanied by Mr. Shigeaki Mori (standing center, on left) to view the memorial plaque he helped to erect in memory of the 12 American servicemen POWs who lost their lives as a result of the atomic bombing of Hiroshima. The plaque stands on the former site of the Chugoku Military Police Headquarters, where the POWs were being interned on August 6, 1945.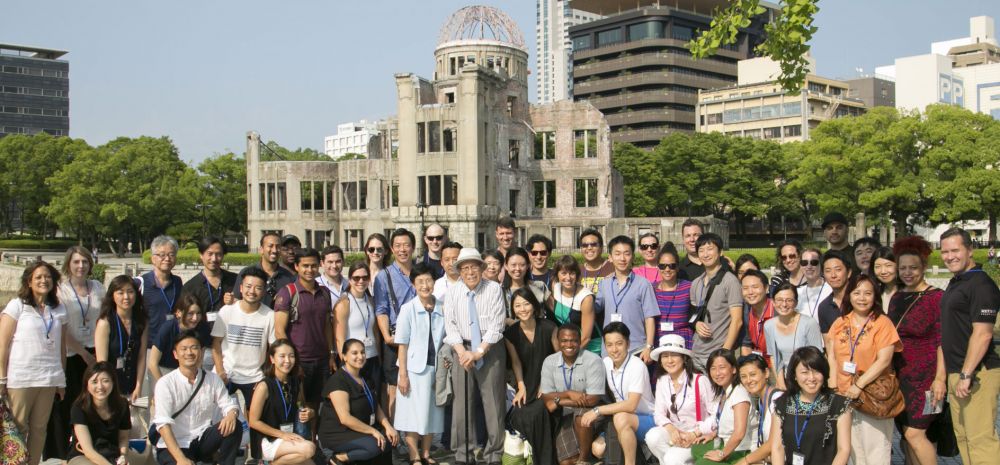 Above: The USJLP Class of 2017 with Mr. Shigeaki Mori and his wife, Ms. Kayoko Mori (standing center), at the Peace Memorial Dome on July 27 in Hiroshima.
Following their day-trip in Hiroshima, the Delegates traveled to Tokyo where they were met by 75 Scott M. Johnson Fellows representing all seventeen previous classes for a festive inter-class reunion held over the final days of the program. The week culminated with over 200 attendees coming together in spirited celebration of friendships new and old, and certain to last a lifetime.
On Friday, July 28, Delegates and Fellows quickly bonded over a session designed to allow for the visual representation of where the group stands (literally) on different subjects. After each "tension question", members were given a chance to explain their position (above left), and see if they could convince the others to join their side (above right). This fun and revealing exercise was fully developed and executed by design-thinkers Erik Leklem (12,13), Kerry O'Connor (16,17), Josh Marcuse (16,17), and Yumiko Kusakabe (11,12).
| | |
| --- | --- |
| | |
The evening reception on Friday, July 28 at the Hotel Okura featured a stunning collaborative performance (photo left) that enveloped the sound and shadow of pianist Sachiko Nakajima (15,16; photo right, in center) in a dazzling collage of visual works by Lex Mestrovic (16,17; photo right, on left). The vision for this performance was brought to life on a 3D canvas constructed with the assistance of Kosuke Mitsumoto (16,17; photo right, on left) and his staff at the SEZON Art Museum in Tokyo.

Above: The final day of the conference, Saturday, July 29, kicked off with an "all-star" keynote panel featuring some of the Program's top U.S.-Japan experts discussing timely topics of importance for the relationship. Panelists from left: Koji Murata (00,01), Doshisha University; Julia Nesheiwat (13,14), U.S. Department of State; Takako Hikotani (00), Columbia University; Tomohito Shinoda (00), International University of Japan; Andrew Winden (00,01), Standford Law School; Taro Kono (00), now serving as Foreign Minister of Japan; Laura Winthrop Abbot (11,12), U.S.-Japan Council; and, Noriyuki Shikata (01,06), now serving as Japan's Minister to China.
On Saturday, July 29, Delegates, Fellows and family members engaged in team-bonding that challenged them to exercise their creativity through a competitive story-telling activity that allowed each group to create their own afternoon adventure (above left) by exploring various Tokyo neighborhoods (above right).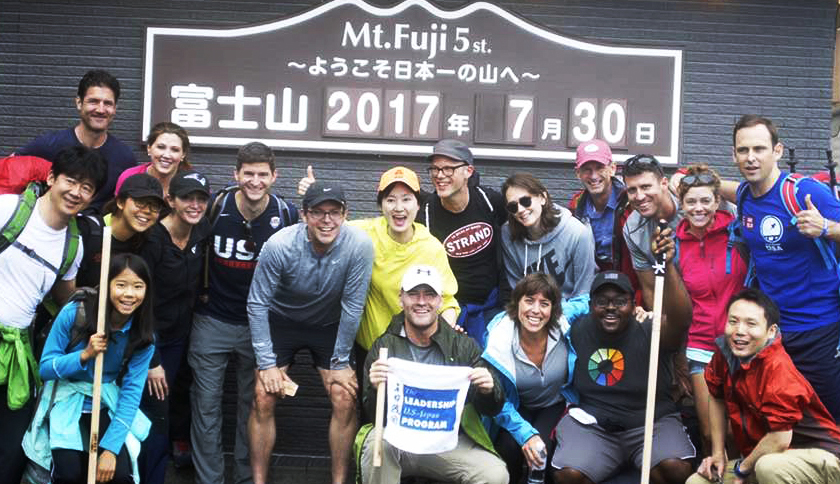 Above: Taking advantage of a once-in-a-lifetime opportunity to climb Mt. Fuji with USJLP friends, adventurous Delegates and Fellows set out together on Sunday, July 30 for an unforgettable overnight hike to greet the sunrise from the summit. This post-conference excursion was made possible thanks to the initiative and organization of Chris Carr (16,17) and Koji Isozumi (16,17).
Back to Conferences