Sixteenth Conference: Kyoto/Tokyo (July 19-26, 2015)
Posted on Jul 19, 2018 - Nov 30, -0001
The Program's sixteenth annual conference was held in Kyoto and Tokyo from July 19-26, 2015. Over these past sixteen years USJLP has grown into a vibrant and dedicated network of 367 leaders in the U.S. and Japan. The 2015 conference brought together 43 Delegates representing government, media, religion, academia, finance, the military, journalism, non-profit, music, architecture, science, technology, health care and the private sector. The 2015 conference week tightly wove together this diverse class by providing a framework for mutual sharing, respect and friendship during discussions and while enjoying an array of cultural activities and sites unique to Japan.
With 2015 marking the 70th year since the end of WWII, following the first four conference days in Kyoto, Delegates were given the chance to spend a deeply contemplative day together in Hiroshima that included a visit to an elementary school by Ground Zero and a personal talk by an atomic bomb survivor given in English. Delegates continued their discussions on various issues of mutual interest in the last two days of the conference that took place in Tokyo.
Delegates receiving a private tour of Honkawa Elementary School's Peace Museum (above left) and paying respects at the Peace Memorial Park (above right) during a daytrip to Hiroshima on Thursday, July 23.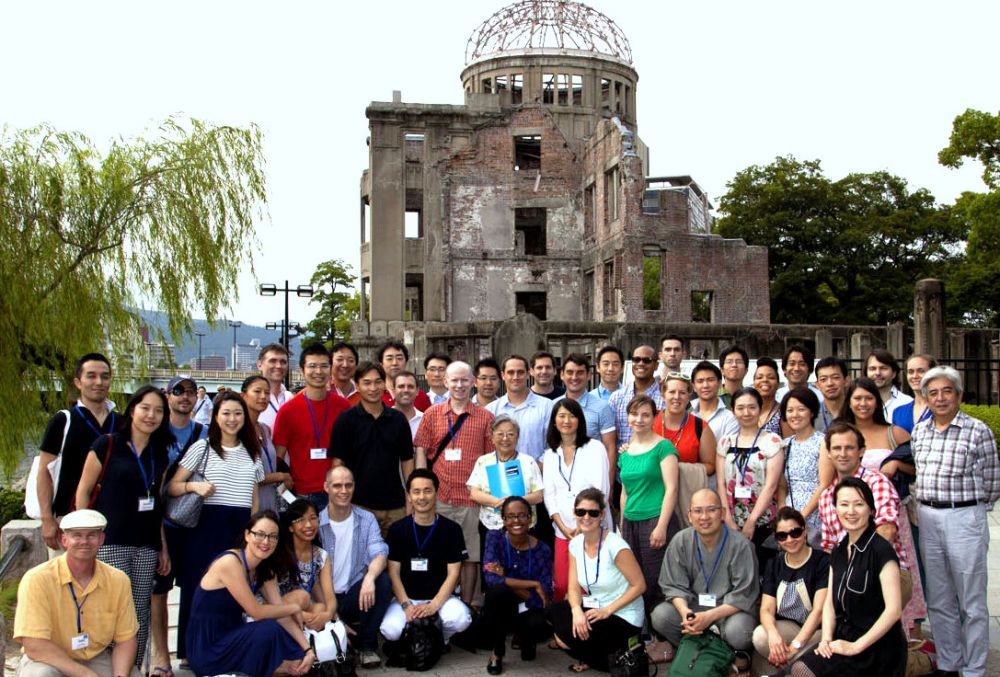 Above: After giving her first-hand account of the events of August 6, 1945 Ms. Koko Kondo (front standing row, center), atomic bomb survivor and peace activist, joined the group for an afternoon tour around the Hiroshima Peace Memorial Museum and Park. Before departing Hiroshima the group paused for a class photo by the Peace Memorial Dome.
In the plenary sessions, issues such as US-Japan alliance, Japanese politics, education, leadership, the innovation economy, democracy, peace, and media were discussed from diverse perspectives represented among the U.S. and Japanese Delegates. Outside experts from government, art, politics, and education were also invited, sparking lively discussions. Topics raised in group discussions were expanded upon in intensive small group discussions held several times over the course of the week.
Delegates in discussion on a variety of topics related to Democracy (above left) and engaged in a lively Q&A session (above right).
In addition to daily discussions, Delegates savored Japan's historical and cultural heritage through visiting sites in Kyoto such as Kibune, Miyoshin-ji, Kinkaku-ji, and Ryoan-ji Temples, participating in a local festival dressed in summer kimonos, and in a calligraphy workshop at a Zen temple. As part of the initial icebreaker and teambuilding, all Delegates participated in a Japanese traditional drumming workshop.
During the final two days in Tokyo Delegates were joined by an unprecedented number of Scott M. Johnson Fellows from the U.S. and Japan, a testament to the extent of the dynamic inter-generational and inter-disciplinary networks that Fellows have fostered across the Pacific over the past fifteen years.
On Monday, July 20 Delegates were challenged to listen carefully to one another and come together as a group during a traditional Japanese drumming workshop (above left). After 90 minutes of sweat-inducing practice, the entire room of Delegates brought to life the musical sounds of traditional Japanese summer festivals in an energetic culmination of rhythm, dancing and teamwork. Following the workshop Delegates donned colorful summer kimonos for dinner and an evening out at a local summer festival (above right).
Special experiences in Kyoto included a traditional 'kaiseki' (Kyoto-style course dinner) over the river in the mountainous region of Kibune on Tuesday, July 21 (above left), and an after-hours tour of Ryoan-ji, Japan's most famous zen rock garden and temple, on Wednesday, July 22 (above right).
On Wednesday, July 22 Delegates were given the chance to try their hand at Japanese calligraphy (above left) and enjoy a traditional Buddhist cuisine dinner at Taizoin Temple (above right), where Rev. Daiko Matsuyama (15,16; kneeling left) is Deputy Head Priest.
Above left: The 2015 Fellows Weekend Opening Reception on Friday, July 24 at the Hotel New Otani welcomed back a record number of Scott M. Johnson Fellows representing every year of the Program for a festive inter-class reunion.
Above right: Delegates and Fellows mingling, from left: Tiger Wada (14,15), Ryosuke Hayashi (14,15), Lolita Jackson (10,11) and Hide Ohashi (08,09).

USJLP members representing various classes throughout the Program's history collaborated on multiple talent show acts for the Fellows Weekending opening night on Friday, July 24. Pictured above is the USJLP Chorus and Orchestra performing "You Raise Me Up" - from left: Masakazu Hoshima (02,03) [Gt./Vo.], Marc Walwyn (02,03) [Vn./Vo.], Shugo Ikoh (14,15) [Pf.], Andrew Byrnes (15,16) [Vo.], Claire Chino (08,09) [Vo.], and Yasumasa Yamamoto (13,14) [Vo.].
The second day of Fellows Weekend on Saturday, July 25 featured a variety of group-bonding activities, including a competitive team hunt throughout various Tokyo neighborhoods (above left), and concluded with a graduation ceremony for the Class of 2014-2015 (above right).
Back to Conferences